After a short walk from bag drop to security, eligible customers will once again use a quick facial scan to pass through the domestic checkpoint in dedicated TSA PreCheck lanes – no need to show a government ID or boarding pass.
In Atlanta, customers will also have the benefit of industry-leading, more efficient security scanners that allow travelers to keep electronics and approved liquids in carry-on bags. As always, CLEAR remains a good choice for members who prefer to use its services.
When it's time to board, customers will swap a facial scan for a boarding pass, just as they did at bag drop and the security checkpoint. One photo, and they are ready to board.
In Atlanta, T1-T8 gates will be the first to offer a facial recognition option for domestic boarding. Gates A10 and A12 will offer the same digital identity-enabled boarding in Detroit.
"This element of the customer journey is possible thanks to our strong partnerships with TSA, U.S. Customs and Border Protection and airport leadership, which were built over years of testing and perfecting facial recognition options for international customers," said Greg Forbes, Delta's Managing Director – Airport Experience. "Delta is writing the playbook for the industry as the first and only carrier to test this experience with TSA and TSA PreCheck."
"We are glad to support self-service technologies that enhance security and reduce physical contact for passengers and TSA employees," said Atlanta's TSA Federal Security Director Robert Spinden. "This is one of many such pilots at domestic airports, and we look forward to continuing to test new initiatives with airline and interagency partners."
Customers with an active Delta SkyMiles membership, Known Traveler Number and passport details saved to their profile can opt in when checking in for their flight using the Fly Delta app. If a customer does not want to participate in this option, they can choose not to opt in and proceed through the airport as preferred – participation is voluntary. Delta does not save or store any biometric data, nor does it plan to.
Delta teams are working to expand the airline's facial recognition-enabled offerings both in scale and scope so more customers can experience a hands-free journey in the future.
With ongoing enhancements to the customer experience both in the air and on the ground – and even more destinations on the map in 2021-2022 – Delta is giving customers more to look forward to as they continue returning to the skies.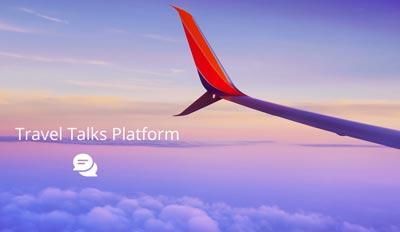 More about our Facebook Group
Travel platform to expand your travel knowledge, follow the latest destination news and participate in daily questions, like "Travel Trivia", "Where in the World" and "Amazing Travel Facts".
Travel Talks Platform for the travel industry
Follow the travel news – Traveltalksplatform is the number 1 news site to stay updated on amazing travel facts, the latest news, events, incentive ideas, MICE news, job opportunities and shows.

Specially composed for the travel industry, you will find the latest travel facts at your fingertips.
Submit


Subscribe
Stay updated about the latest travel news worldwide





The latest airline news, hotel news, cruise news and MICE news in your inbox:
Stay updated about
the latest travel news worldwide
Copyright © 2021 e-motions international
disclaimer:

We assume no responsibility or liability for any errors or omissions in the content of this site. The information contained in this site is provided on an "as is" basis with no guarantees of completeness, accuracy, usefulness or timeliness.