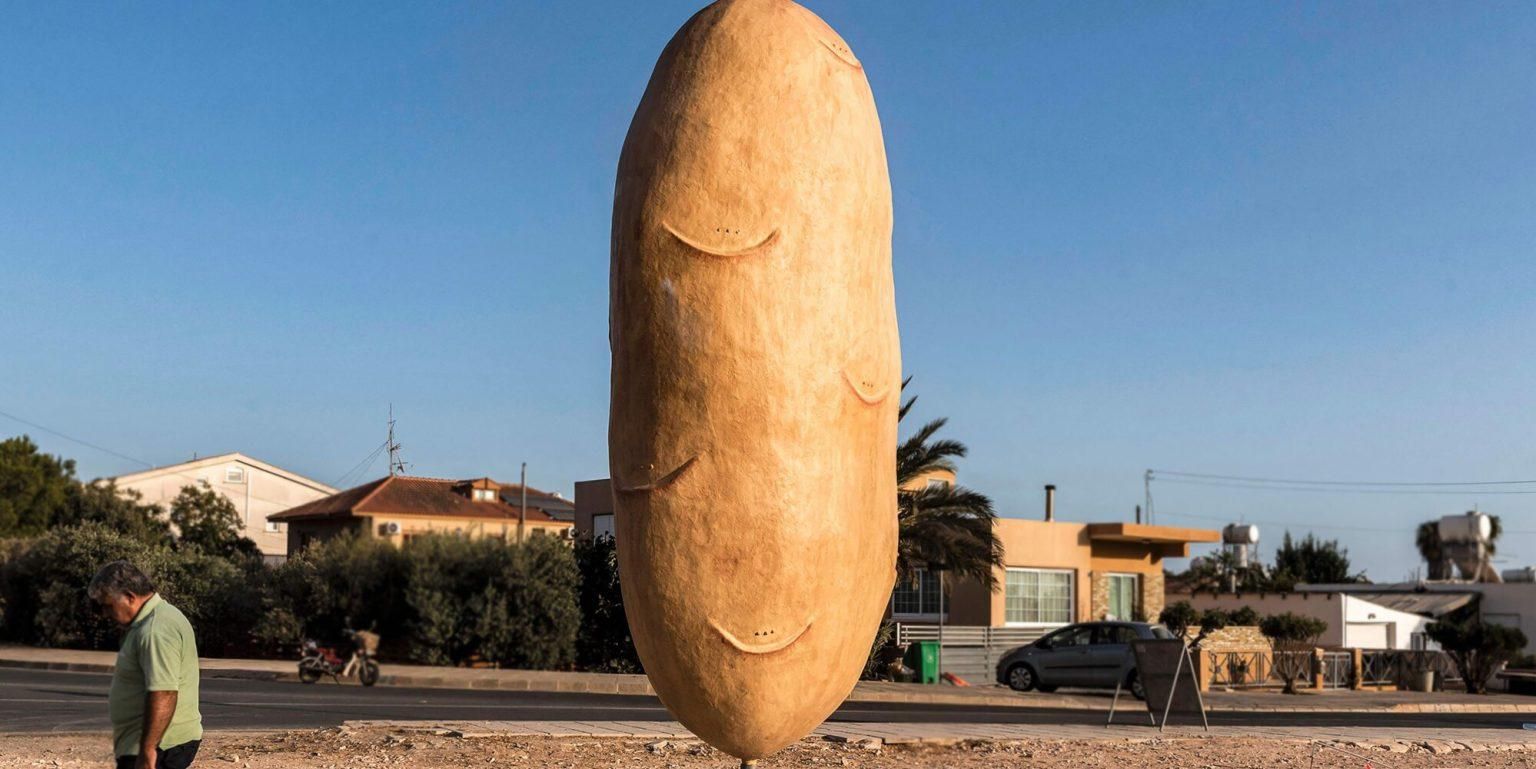 The Belfast Tourist Board recommends that visitors to the Northern Ireland city should try to see "the world's largest Titanic visitor experience," the century-old Belfast Cathedral, and The Big Fish, a 32-foot long ceramic statue of a salmon. 
When officials in Xylofagou, a village in Cyprus, were trying to figure out what they could do to commemorate their most famous crop, they thought about Belfast's Big Fish. But instead of a tiled mosaic covered with stories about their city — like that oversized salmon — Xylofagou ended up with, uh, a giant fiberglass potato on a stick. 
The newly unveiled 16-foot-tall replica of the 'spunta' potato variety cost the village €8,000 ($9,300) to design, build, and install. "The Big Potato" has also been roundly mocked on social media for its unfortunate resemblance to, uh, a very personal body part. (No giggling, please!)
"Xylofagou has a long legacy of potato growing and used to be the main potato grower in Cyprus. This helped the village grow into the 10,000-strong community it is today," community leader George Tasou told the Cyprus Mail. He also said that he's "not bothered" by the social media snickering about its shape, because the sculpture has gotten some much-needed publicity for Xylophagou. 
Tasou said that the Big Potato will soon be accompanied by more decorative elements and bench seating for people who want to be photographed near the giant spud. There is also a plan to add a "kiosk offering potatoes cooked in many different ways," and the village may eventually build a potato museum that would show potato-growing tools and pictures of the different varieties of potatoes that are grown in the region. Next year, Xylophagou also wants to set a new Guinness World Record for frying the most French fries at one time; their goal is to cook around 1,760 pounds worth. 

More about our Facebook Group
Travel platform to expand your travel knowledge, follow the latest destination news and participate in daily questions, like "Travel Trivia", "Where in the World" and "Amazing Travel Facts".