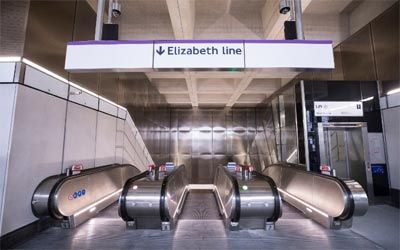 Elizabeth line opens today
May 24, 2022-  when fully open – add around 10% more capacity to central London's rail network as well as an estimated £42bn to the UK economy.
High-frequency services connecting to more places – for many the new railway means shorter journey times between popular destinations in the Capital. The travel experience is more comfortable on the spacious trains and in the new and newly refurbished stations.
Opening stage
The Elizabeth line is initially operating as three separate railways – services from Reading, Heathrow and Shenfield will connect with the central tunnels from autumn this year. When the final stage is complete, customers will be able to travel seamlessly from Abbey Wood to Heathrow and Reading, and from Shenfield to Heathrow.
From 24 May 2022 (subject to final safety approvals)
Services running as TfL Rail were rebranded as the Elizabeth line
The central section opened, adding nine new stations to the TfL network (Bond Street will open to Elizabeth line customers later in 2022)
Service starts with 12 trains an hour (a train every 5 minutes) running between Paddington and Abbey Wood from 06:30-23:00, Monday to Saturday.
Work will continue outside those hours, on Sundays (except for the weekend of the Platinum Jubilee, Sunday 5 June 2022) and select full weekends to allow for any testing and software updates. By doing so, we can bring forward the next phase of the Elizabeth line to this autumn. The number of trains running through the central area and direct journeys from the east and west is expected to nearly double in autumn 2022.
The line operates in London as three separate railways, in the east, west and through central London. Elizabeth line customers travelling between:
Shenfield and the central section of the route will need to change trains at Liverpool Street, walking to/from the new Elizabeth line Liverpool Street station
Reading or Heathrow and the central section will need to change trains at Paddington, walking to/from the new Paddington Elizabeth line station
Paddington and Abbey Wood only – no changes needed


From autumn 2022

The lines from Reading, Heathrow and Shenfield will connect with the central tunnels. This means customers travelling:

From Reading and Heathrow can travel east all the way to Abbey Wood without changing at Paddington
From Shenfield can travel west all the way to Paddington without changing at Liverpool Street

By May 2023

The separate sections of Elizabeth line are fully connected and services run to the final timetable
24 trains an hour will run at the busiest times between Paddington and Whitechapel.
Professional top events in London
Latest posts

More about our Facebook Group
Travel platform to expand your travel knowledge, follow the latest destination news and participate in daily questions, like "Travel Trivia", "Where in the World" and "Amazing Travel Facts".