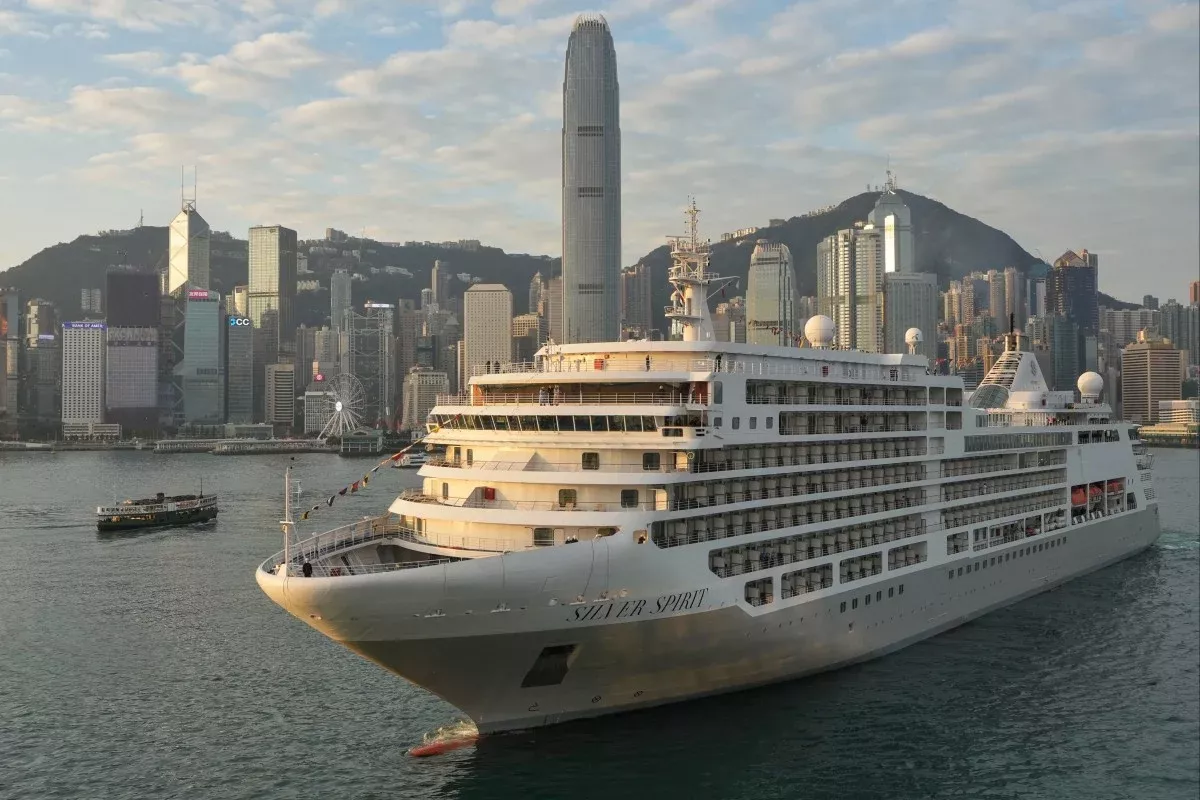 Hong Kong Cruise – After Three Years, Hong Kong Welcomes International Cruises
January 23, 2023 – Hong Kong Cruise
Hong Kong has welcomed its first ship carrying overseas passengers since the shutdown began in 2019. The easing of pandemic restrictions and the re-opening has allowed for this restart. The Silver Spirit, a Silversea cruise ship, arrived in Tsim Sha Tsui, Hong Kong, on 18 January 2023, after a 14-day round-trip voyage from Singapore.
Hong Kong Cruise
The Silver Spirit arrived in Hong Kong just after sunrise on Wednesday, January 18 for a two-day port call during a cruise around Asia timed to coincide with the Lunar New Year celebrations. The 39,500 gross-ton cruise ship, which is operated by Silversea Cruises, part of the Royal Caribbean Group, was repositioned by the line to operate from Asia as part of the industry's return to the market. She will remain in the region till March, when she begins her repositioning to Europe for the summer season.
Many travellers dream of visiting Hong Kong because of its cultural offerings. If you're visiting the city, arriving by cruise ship is the best way to see the harbour and get into the centre quickly and easily.
The Ocean Terminal is conveniently positioned on the north side of Victoria Harbour, close to Kowloon Park and a wide variety of tourist destinations, delicious dining options, and attractive shops. Visitors may take in breathtaking vistas of the city's cityscape and historical landmarks as they make their way to the terminal.
Silversea's managing director Adam Radwanski called Hong Kong's harbour "one of the most magnificent harbours in the world." "Cruising throughout Asia is not complete or entirely satisfied without stopping or calling in Hong Kong; hence Hong Kong is an extremely critical point and port in this part of the region."
The Silver Spirit, with a gross tonnage of 39,518, can accommodate 608 passengers at double occupancy and 648 at maximum capacity. This ship underwent extensive renovations in 2018. As limited-capacity sailings are still required in the region, the ship is expected to transport slightly more than 300 passengers on this voyage. More than twenty different countries were represented among the guests, which was a true display of the revival of the cruise industry.
Kevin Yeung, the minister of culture, said as he greeted visitors at the port, "It's a significant milestone for us on our road to recovery."
China has maintained strong lockdowns and limits on overseas travel, only gradually relaxing restrictions recently. With cruise ships finally returning to the region, more tourists will be able to explore this magnificent destination.
Silver Spirit called in ports in Thailand and Vietnam before arriving in Hong Kong. It is on its way back to Singapore on a 10-night cruise, expected to reach 29 January, with three stops in Vietnam along the way: Halong Bay, Da Nang, and Saigon.
While China is just progressively opening up to international cruise tourism, several cruise lines are scheduled to visit Hong Kong in the coming months. Along with Silversea, cruise lines having stops in Hong Kong include Holland America Line, Celebrity Cruises, Oceania Cruises, AIDA Cruises, Azamara Cruises, P&O Cruises, Princess Cruises, MSC Cruises, Royal Caribbean International, and Cunard.
Source: traveldailymedia
Latest cruise posts

More about our Facebook Group
Travel platform to expand your travel knowledge, follow the latest destination news and participate in daily questions, like "Travel Trivia", "Where in the World" and "Amazing Travel Facts".