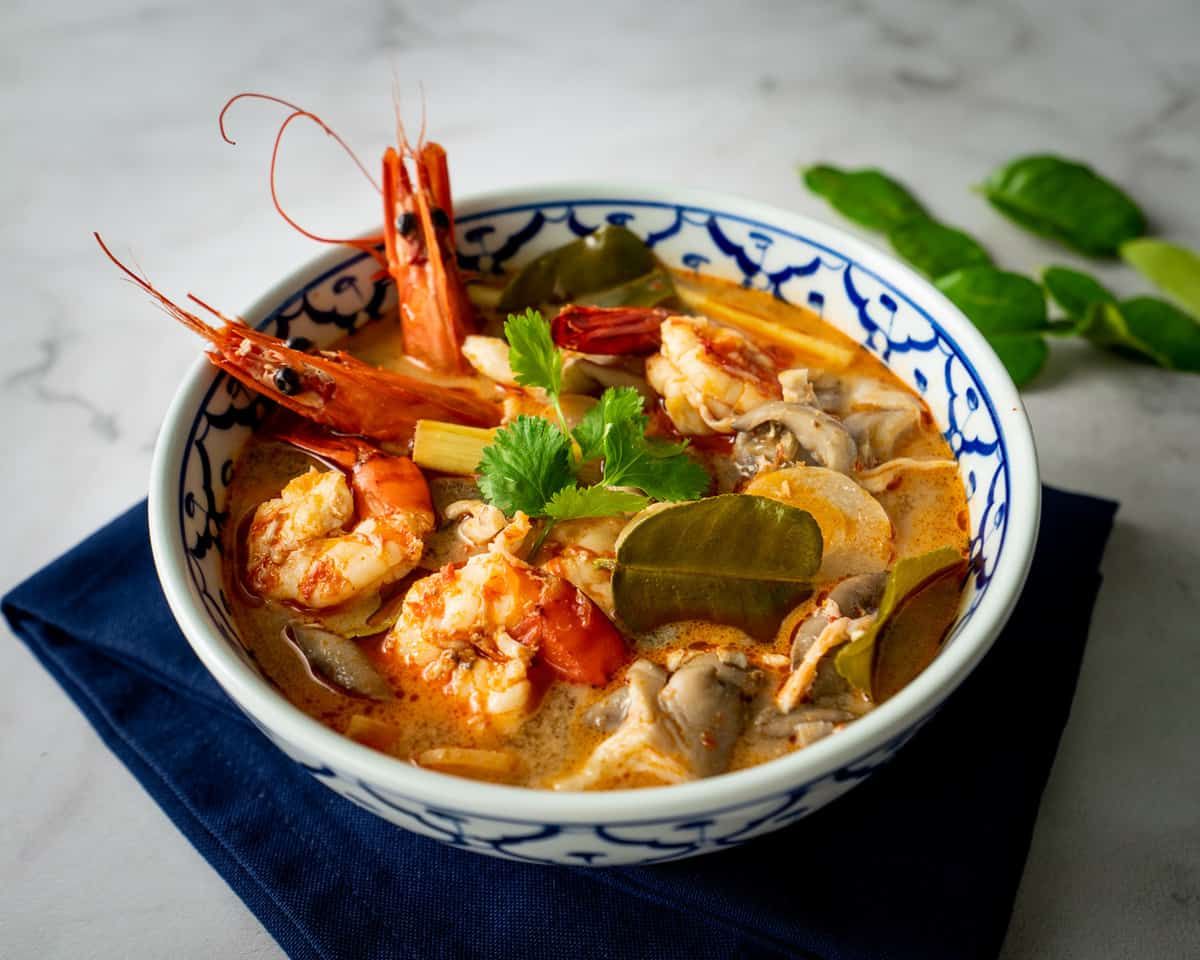 What's cooking in Thailand – Spicy Tom Yum Goong
Delicious Thailand food is universally regarded as some of the world's finest. The variety of Thai cuisine, especially its world-acclaimed street food, is astounding, but mainly covers noodles, stir-fries, curries, soups and salads, available anywhere from mobile food carts to Bangkok's Michelin-starred restaurants. For the best Thai food, here's our recommended top must-try dishes.
Pad Thai (Stir-Fried Noodles)
Thailand's noodle dishes were introduced by Chinese immigrants and arguably, Pad Thai ranks as the most celebrated all. This signature dish is a great go-to introduction to Thai food as it's not too spicy. Similar to many dishes, Pad Thai varies regionally, but is classic ingredients of flat rice noodles, seafood (alternatively, chicken, pork, or tofu), dried shrimp, tamarind, fish sauce, bean sprouts, shallots and egg, all stir-fried in a hot wok, plated-up and sprinkled with roasted peanuts, fresh herbs and chilis (optional). Pad Thai epitomizes that Thai trademark sweet, sour and salty combo of flavors and well-balanced texture contrast.
Spicy Tom Yum Goong (Hot & Sour Shrimp Soup)
One of Thailand's most iconic dishes, this popular soup is a spicy, sour and aromatic tastebud extravaganza! Hailing from the central region, the unique flavors of this piquant clear soup derives from the marriage of fragrant lemongrass, shallots, fish sauce, galangal, mushrooms, kaffir lime leaves, lime juice and red chili peppers. Although shrimp (Goong) is most commonly used – regarded as the most delicious version – other variations cover chicken, fish or mixed seafood. If you find this all too spicy, northern specialty, Thai chicken coconut soup, lends a milder, sweeter and delicious alternative; it has the same sublime flavors and spices, yet the chilies are optional and the creamy coconut milk tempers the heat.
Kaeng Lueang (Yellow Curry)
Thailand's world-famous curries range from mild to explosive and sweet to sour and invariably concocted with coconut milk, present a soup-like consistency. There are endless regional varieties, but the three main curry types, red, green and yellow are the best known internationally, with differences according to spiciness levels and dominant ingredients.
Yellow curry has a strong southern Thai influence, with a rich texture and characteristic hue derived from generous use of turmeric. This is pounded together with classic aromatic ingredients which usually cover coriander, cumin, shallots, lemongrass and galangal. Coconut milk, vegetables and potatoes are added, along with chicken, or alternative protein or tofu options. As this curry type generally contains less chilies, it isn't so spicy as its green and red curry counterparts, thus suitable for those – including children – who prefer a mellower taste.

More about our Facebook Group
Travel platform to expand your travel knowledge, follow the latest destination news and participate in daily questions, like "Travel Trivia", "Where in the World" and "Amazing Travel Facts".